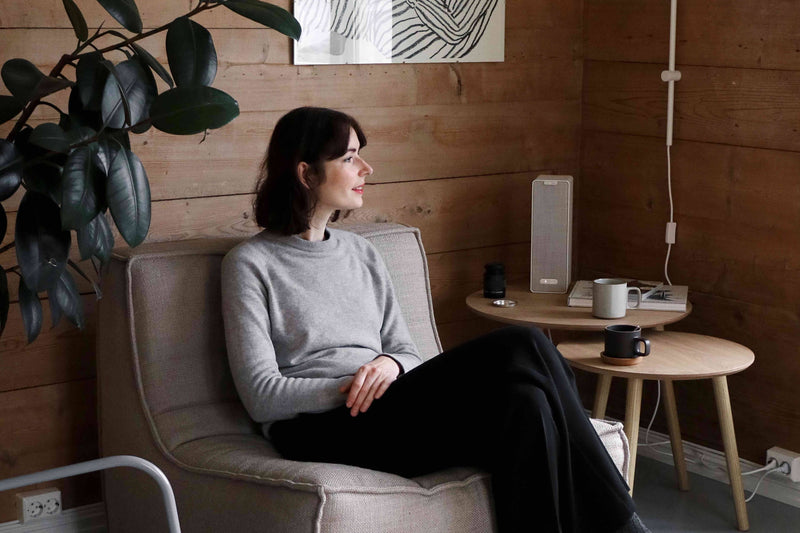 Talks on simplicity – meet Rena Noordermeer from Studio Hear Hear
Relax, take a deep breath, and imagine you're standing between the Norwegian mountains, filling your lungs with refreshing northern air. Or let's say you're in a wooden house: the wood's crackling in the fireplace, the world outside seems chilly yet beautiful, and you're surrounded with items that make you happy.
We're thrilled to invite you to the home of Rena Noordermeer, whose life is centered around simplicity, plainness, and craft. Rena is an all-round creative (currently focusing on woodwork), chasing the dream of living slower and in a more conscious way, surrounded by nature of Norway's west coast. Together with her husband Sam, she moved there from the Netherlands to run their common creative initiative, Studio Hear Hear. Get to know Rena's story and take a peek at her living space where Bau Sideboard perfectly harmonizes with wooden walls and subtle décor elements.
What does simplicity mean to you?
Simplicity is something that I long for and search for both in daily life and in design. To me, simplicity means being stripped of non-necessities, staying uncomplicated and plain. It brings much needed clarity in times where it's so easy to get overwhelmed and distracted.
Before you decided to change your life and move among the fjords, you ran a lovely studio in Amsterdam, which you showed frequently on Instagram. Have you imagined yourself living in a Norwegian cottage before it actually happened?
I could easily see us (my husband Sam and me) living on a farm with some animals and an orchard. I just never pictured it to be in Norway. Sam's half Norwegian and we used to talk about a small holiday-home in Norway before, but it wasn't until after we closed both our shops in Amsterdam that we started to realize moving to Norway could actually be a possibility.
When we look at the pictures of your home, we can almost sense the wave of warmth after getting back from an early spring walk. Could you tell us about the decorating process that led you to create such a cozy ambience?
We live in a traditional wooden farmhouse that was built by hand over a hundred years ago. The wooden floors, walls and ceilings add a lovely, warm and welcoming ambience to the house but all that wood also tends to be a bit too much. I kept the decoration plain and simple, and used mostly light colors, strong lines and natural materials like clay, linen, and wool to add a bit of depth, without losing the cozy feeling.
"Life close to the nature" may sound corny, but this is literally the first thing that springs to mind when we see the flowers on your windowsill and the breathtaking landscape in the background. How does nature show its presence in your life and work?
I don't even know where to begin! Nature is very present in every aspect of my life. In this fast, modern life, where we always have to "do things", we almost forget about simply "being". And nature reminds me to "be". I have a very powerful connection to the forest.
I have a very powerful connection to the forest. Whenever I feel overwhelmed or anxious, the trees, mosses and rocks always provide me with calmness.
Rena Noordermeer, co-founder of Studio Hear Hear
Whenever I feel overwhelmed or anxious, the trees, mosses and rocks always provide me with calmness, as well as with inspiration for my work. When I spend time outdoors, I become more mindful, grateful, and appreciative of life. It clears my mind and makes room for a happy, calm, and creative flow.
We must say we are in awe of your handiwork, especially the wooden gems you create. As we have a wood-turned set of dishes in our offer, we are aware of how skill-demanding process it is to turn a piece of timber into a bowl. We'll be thrilled to hear more about the creative process behind your works!
Sam started working on the lathe (a machining tool that is used for shaping metal or wood) when we lived in the Netherlands. We even did some collaborations using his woodwork and my ceramics. After we moved to Norway, I lost most of my drive to create ceramics. It also became more complicated to get clay and materials for glazing. But we have this huge forest that we have to maintain, so it felt natural to start working with the wood from our own land. Sam has taught me a lot about working on the lathe and I enjoy working on our designs together. It's a great feeling to work on something from the start till the end. This is as locally sourced as it comes.